The Complete Guide to Contract Lifecycle Management: Bridging the gap between business and legal
Learn how to maximise the value of contracts and get your business and legal teams aligned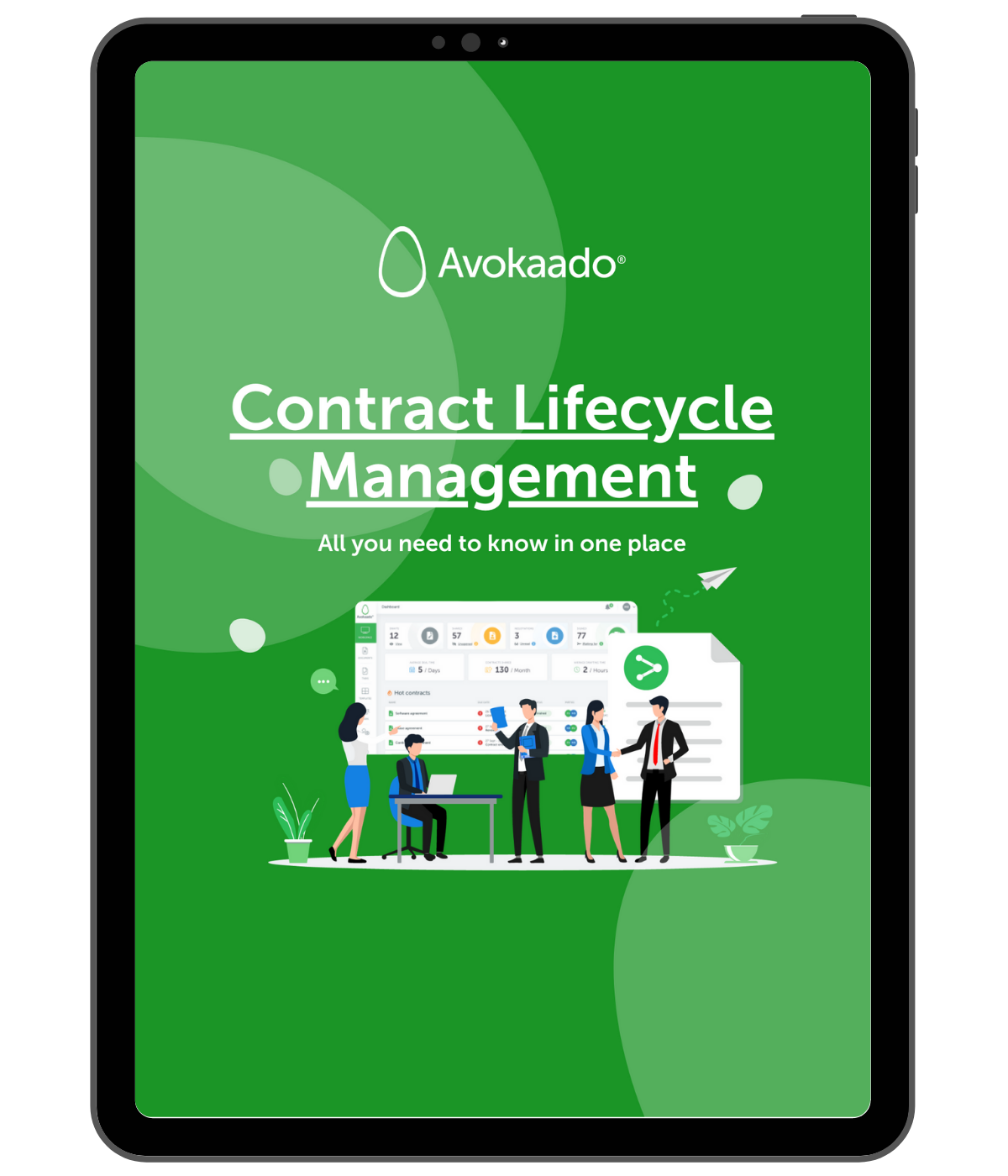 Get a Chance To Learn How To:
Ensure compliance of each legal document in your company

Reduce contract time cycle and speed up deals closure

Save costs by automating manual work 

Get business and legal teams better aligned and deliver results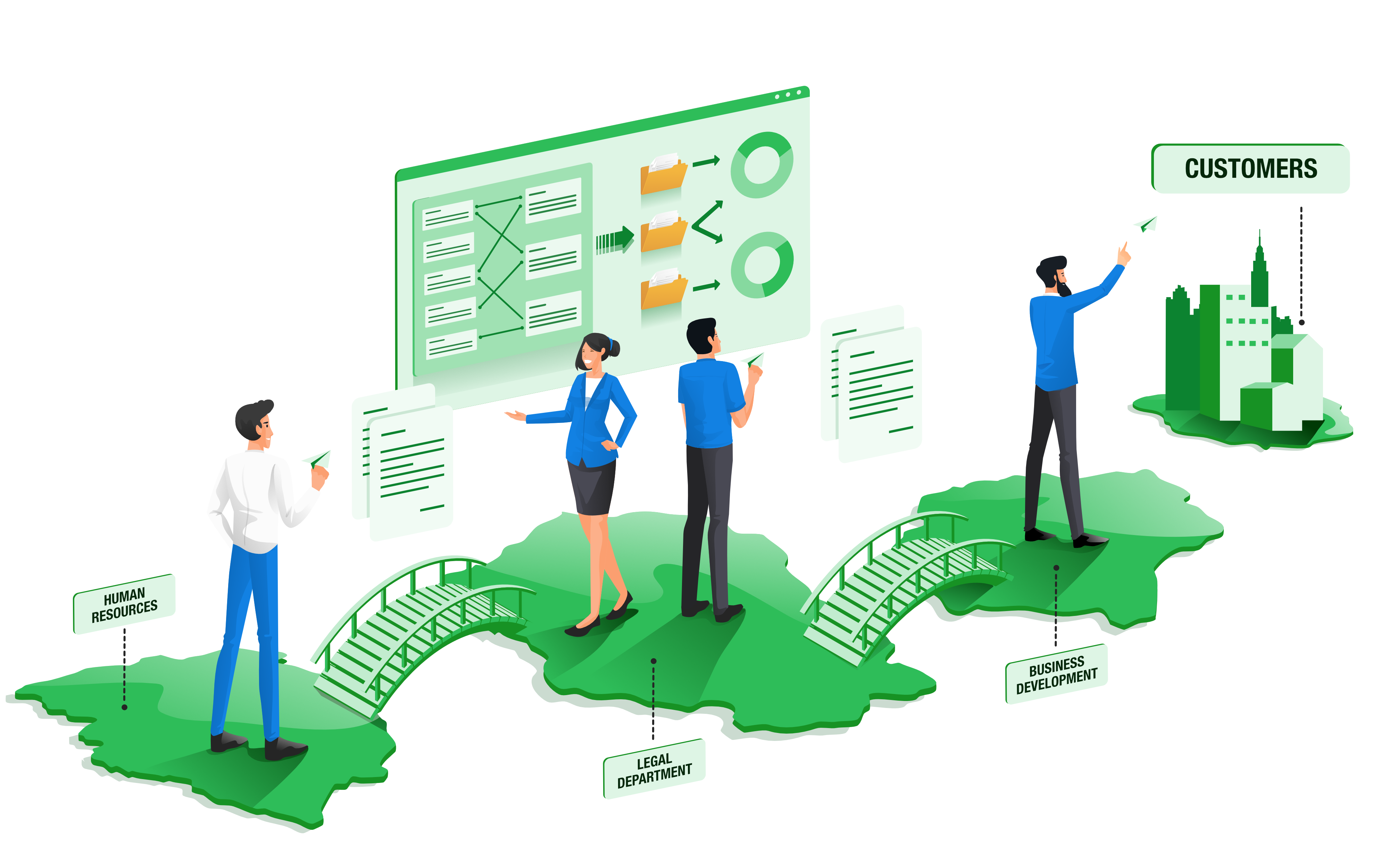 Contracts are the lifeblood of any business
What is Contract Lifecycle Management?
Why Do Companies and Lawyers Need Contract Lifecycle Management?
What is Digital Contract Lifecycle Management?
1. Maintaining a Centralised Document Database
2. Standardising the Document Creation Process
3. Online Document Sharing: Delegation and Co-Drafting
4. Automating Document Workflow
5. Online Document Signing
6. Contract Management and Overview
What are Contract Lifecycle Management Software Options?
Contracts are the lifeblood of any business
Even though the contracting process is still fairly simple, it takes weeks and costs thousands of dollars. Business development, HR, sales, procurement teams are dependent on the legal team. Businesses are not able to run their operations efficiently to close deals and mitigate risks at the same time. 
Even a low-risk contract costs an average of $6,900 to process. Costs for a mid-complexity contract averages $21,300, and high-complexity contracts run into hundreds of thousands of dollars. Average cycle times to create, negotiate and approve contracts are 7-18 days to close standard agreements such as NDA or IP and 20-30 days for procurement or sales documentation. What's more, contract numbers increase at scale — additional parties and increased organisational complexity demand difficult-to-implement workflows but the same efficiency and cost optimisation.

In this guide, we'll explain how any business can make contract lifecycle management efficient and reduce waiting time, costs and risks. Each stage of the contract lifecycle management can be optimised: document creation, document workflow and document management. With efficient contract lifecycle management tools businesses and legal teams can:
Get better aligned on their document workflow
Ensure compliance of each legal document
Reduce contract time cycle and speed up deals closure
Save costs by automating manual work
Without further ado let's start.
Avokaado is a digital workspace for contract lifecycle management
What is Contract Lifecycle Management?
Before we go into our study about what could be achieved with digital workflows and cloud-based contract lifecycle management, let's dive into the terminology – what we mean by 'contract workflow' and by 'contract lifecycle management'.
Contract workflow is the process of streamlining document creation, negotiation, approval, and execution. If managed manually, the workflow usually includes these 10 stages:
Contract lifecycle management includes more steps and processes in addition to the contract workflow.
Contract lifecycle management covers more organisation needs such as contract data processing, oversight, analytics, and sharing with other systems and/or platforms. It also provides post-signing management – reminders, renewals, storage and search, audit/reporting/data rooms. Digital contract lifecycle management is cloud-based meaning all the processes are managed via cloud computing model, giving operations the scalability and access 24/7 everywhere in the globe.
In sum, contract management and contract lifecycle management solutions are great for post-execution contract needs, and workflow solutions are great for pre-execution needs.

Why Do Companies and Lawyers Need Contract Lifecycle Management?
Any business, no matter the size and industry, needs contracts to support operations and close deals. Whether you've got a new employee to onboard, a new contractor to outsource services from or new business premises to rent out — it's all run on contracts. Still, each company goes through the same inefficiencies of the contract process:
Involving lawyers in low-value tasks
Business people need to put together all commercial terms for the contract, deliver accurate answers to customers and close deals as soon as customers are warmed up. For lawyers, document creation takes time as they are responsible for compliance and risk management.
Contract drafting from scratch and repetitive data insertion has always been a lawyer's job which makes business people become dependent on lawyers and wait a lot. 
We are all humans, and we all make mistakes. However, mistakes in legal documents are not tolerated. Gaps in standardised language, missing data, or regular typos can introduce risk or confusion, disarray and potential loss of critical information. Delegating documents to non-lawyers might mean untrackable changes and deletions that may totally break the contract.
That's why legal documents are not collaborative business tasks and have to be always double-checked by lawyers that consume a lot of business-critical time. 
Distorted capture of the data input 
The data is scattered over different professional departments or clients whose data input might be imprecise, incomplete or simply inadequate. Business people's goal is to get to the deals' closure as fast as possible and they won't allocate their time to find out potential risk areas. Working with an outdated template version or incorrect data results in penalties and profit losses. 
Working under the time pressure causes communication gaps especially when contract negotiation, approval and signing happens all over the places – in an endless email thread and constant reminders. Messy communication leads to lost deadlines, overlooked changes, additional negotiation and review rounds, repetitive approval requests.
Money that is at the stake of the high-value contract could be easily lost due to time-consuming negotiations and closure.
If contracts depended only on lawyers and their speed it would have been much faster to get them signed. However, document creation is just the initial stage of the contract lifecycle management. The next stages include other parties who are supposed to leave comments, suggest changes, negotiate, approve and execute a contract. At these stages, lawyers have no full control over activity logs, document statuses and emerged bottlenecks.
If you can't see it, you can't control it. That's why contracts remain stuck until they get business-critical. 
Implementing and digitising contract lifecycle management helps you streamline the contract workflow and improve your business and legal teams' performance by:
Reducing risks

: digitisation of contract management can lead to improved compliance by 55%

Saving time

: digitising on CLM can save, on average, 20-30 days that otherwise the company spends to create, negotiate and finalise a contract

Saving costs

: administrative costs associated with contracts are reduced by 25%-30% through implementing automation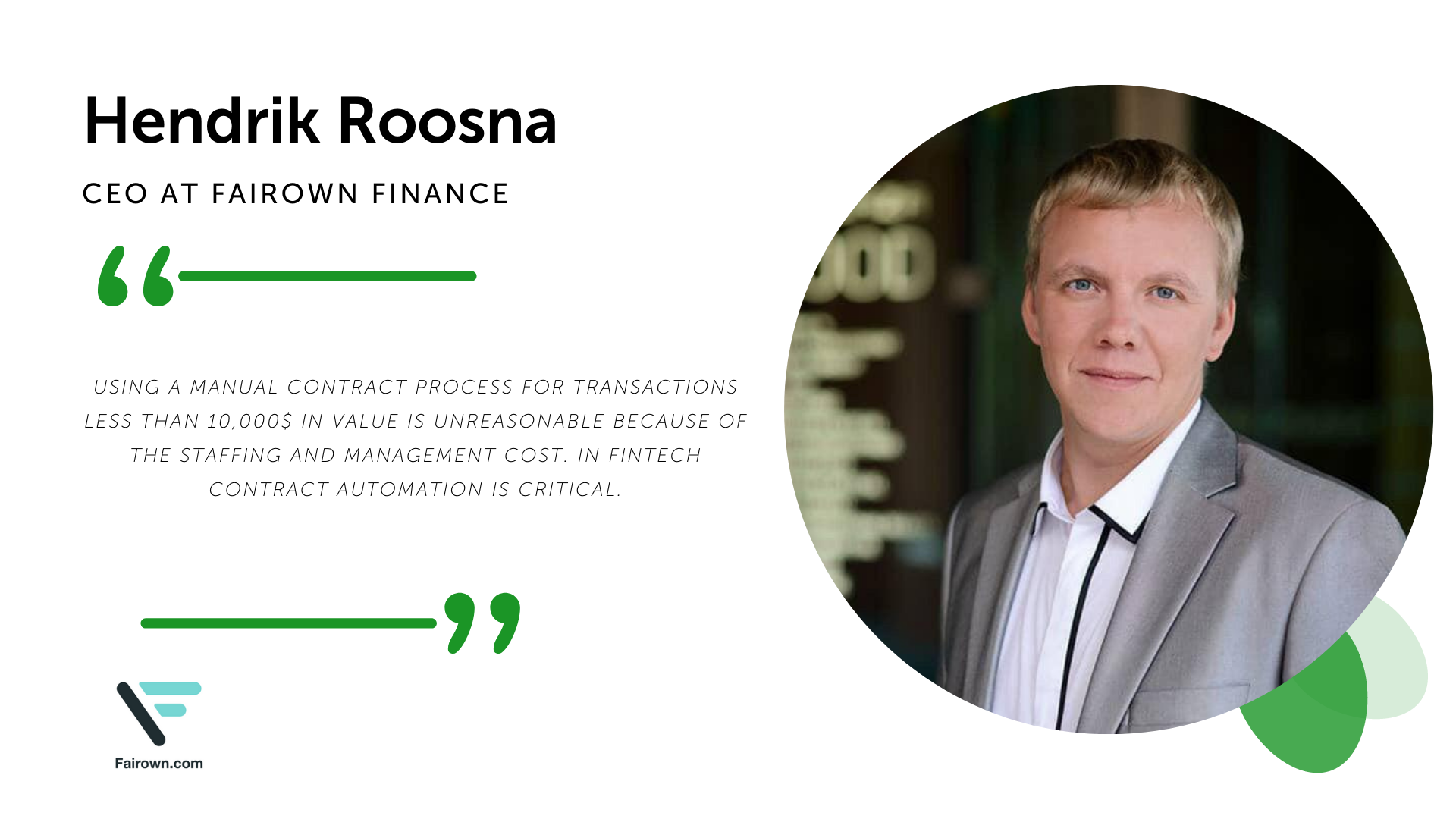 What is Digital Contract Lifecycle Management?
Digital Contract Lifecycle Management follows the same logic as the manual one, however, it replaces half of the process with automated solutions:
Digital Contract Lifecycle Management solution eliminates:
Manual processes and data silos

Chances of mistakes and typos

Mess with versioning and their exchange

Decentralised negotiations

Inconsistency and slow approvals

The lack of visibility around contracts' progress
As a result, legal and business people can manage risks better, proactively meet deadlines and maximise the value of your contract. Digital Contract Lifecycle Management helps with:
 

1. Maintaining a Centralised

Document Database 
A centralised document database helps you keep document templates available and up-to-date to the internal team, external legal service providers and business customers. It ensures everyone in the organisation uses the latest versions which are compliant and proof-read by lawyers. 
Another benefit of a centralised document database is access to the shared clause library. Lawyers or contract makers no longer need to search for "that very" clause all around files and put together a document from scratch especially when documents for a similar case have already been prepared.
Maintaining a centralised document database makes your internal knowledge and best practices captured and consolidated in one place.
Get access to the ever-growing Avokaado document templates library for free
2. Standardising the
Document Creation
Process
Standardised document creation process helps you reduce time to get your first contract draft ready. Standardising document generation is usually done by creating automated templates based on your own word templates.  
Automated templates for contracts are made in a way to eliminate all possible routine and repetitive drafting parts by enabling:
One-time data insertion

Automated formatting and styles

Default answers

Tooltips and guidelines
Standardising the document creation process helps you kick off with the first draft in a few minutes and reduce the number of mistakes.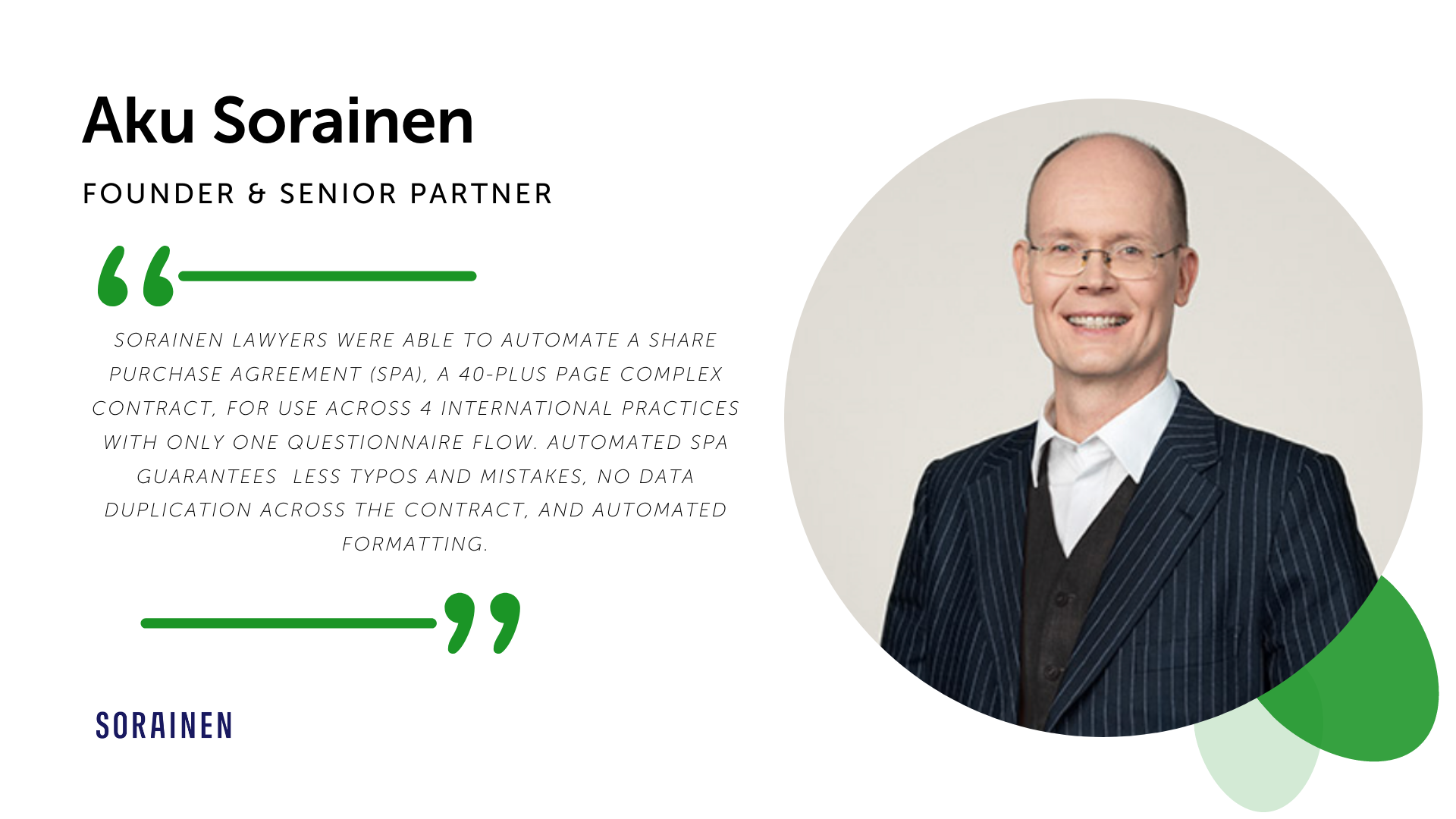 3. Online Document Sharing:

Delegation and Co-Drafting
Sharing your documents in a controlled environment allows you to delegate drafting to other business units or clients. Document drafting delegation helps you save time on manual data entry or collecting data input from all the stakeholders and let them do it for you. Creating self-help tools and guides for internal or external counterparties for regular and low-risk work eliminates legal department involvement. 
Lawyers can share document templates for co-editing or completed documents for review and approval – all in one place. Automated questionnaire-based templates ensure no business-critical data is lost or incomplete and no unnecessary changes are made. Lawyers can decide to which extent they will enable other parties' contribution by extending drafting rights.
Delegating automated document templates makes document drafting fast and error-free and lets the legal team focus on high-volume tasks.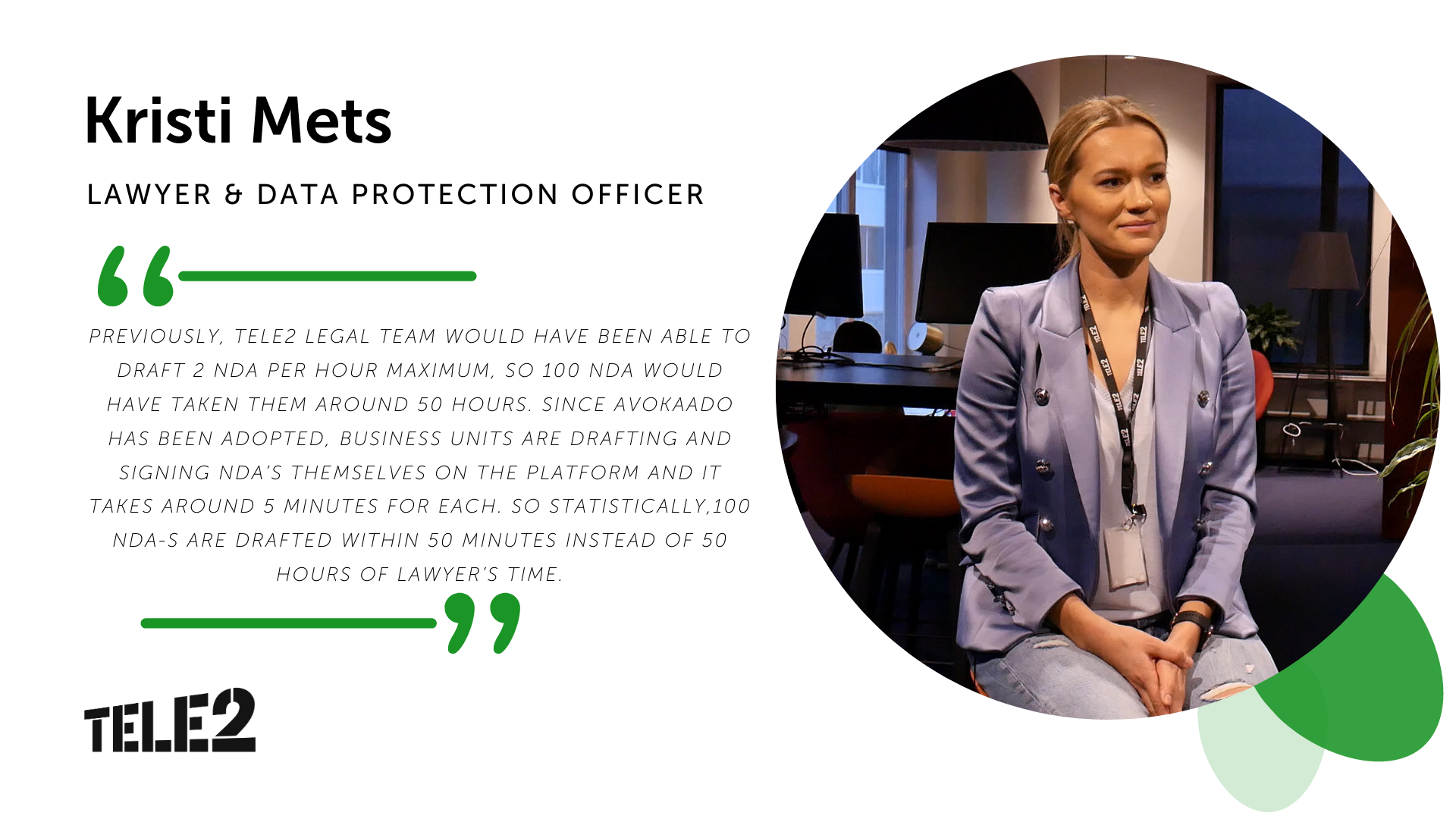 4. Automating Document Workflow

Document workflow is effective when it happens in a transparent and organised way. Having all the document stakeholders working from a shared window eliminates constant email exchange with the new document versions, downloading and uploading amended files, and gives you control over progress. 
Contract lifecycle management tool with an automated workflow functionality helps you streamline your own contract workflow and bring all parties to one place. You can automate your document workflow and:
Open up a discussion for negotiation

Add attachments to the document

Set up a queue-based approval order

Enable reminders and notifications

Set up a digital signing flow
Having all these tasks performed in a centralised place saves tons of time on communication, checking overloaded inbox, and exchanging emails.
Set up your first document workflow with a few clicks
5. Online Document Signing

Execution of a contact can easily happen right after terms are negotiated and agreed with the help of digital signing solutions. To execute a contract even faster you can use a legal electronic signature straight from the contract lifecycle management platform. Make sure your contract lifecycle management has a suitable digital signature functionality integrated so that you would not need to pay for the external digital singing providers. 
With online document sharing, you don't need to download the document and send it for signing over email, nor create an account with the digital or electronic signature provider, nor pay for signatures additional fees. Depending on your jurisdiction you can choose between signatures and finish documents without ever leaving the platform. 
Digital signing is instant and seamless and helps execute contracts much faster and in a matter of a few clicks.
6. Contract Management and Overview

Contracts' lifecycle doesn't stop as soon as contracts are signed. A proper document management system helps you not only organise all of your files and data in one place but also serves as a baseline for better collaboration. You can keep track of all of your critical documents, accelerate your workflow, increase accuracy and provide 24/7 access to documents from any part of the world.
Contract management platforms provide you with a dynamic dashboard with hot deadlines, documents' statuses and unfinished tasks. Centralised data about the entire document workflow gives you visibility and therefore control over deals' progress. The oversight over progress allows lawyers to meet deadlines proactively and address the upcoming issues instantly. 
Contract management can be a time-consuming stage of the contracts' lifecycle, but if properly managed, can be one of the most impactful areas for building business relationships and generating revenue.

7. Integrated Contracts

Contracts are full of data, which could be managed and shared through the organisation effectively. Advanced contract management solutions are tailored for integration with a business' existing CRM system or any other internal tool, accelerating the entire contract process and eliminating lack of communication between legal teams and other business units.
While filling in the contract data it could be already marked as shareable data points for posting or received from other databases like CRM. Integrated electronic signatures makes the signing process for all involved stakeholders really easy. The same goes for post-signing contract lifecycle management – for metadata search, analytics, data rooms, audits. This ensures that none of the contracts isare lost, data is missing or wrong and all flows are working smoothly without human interaction.
The benefits of integrated contracts are clear to see. Business units and legal teams close deals faster when CRM information and contract information are managed within a centralised system.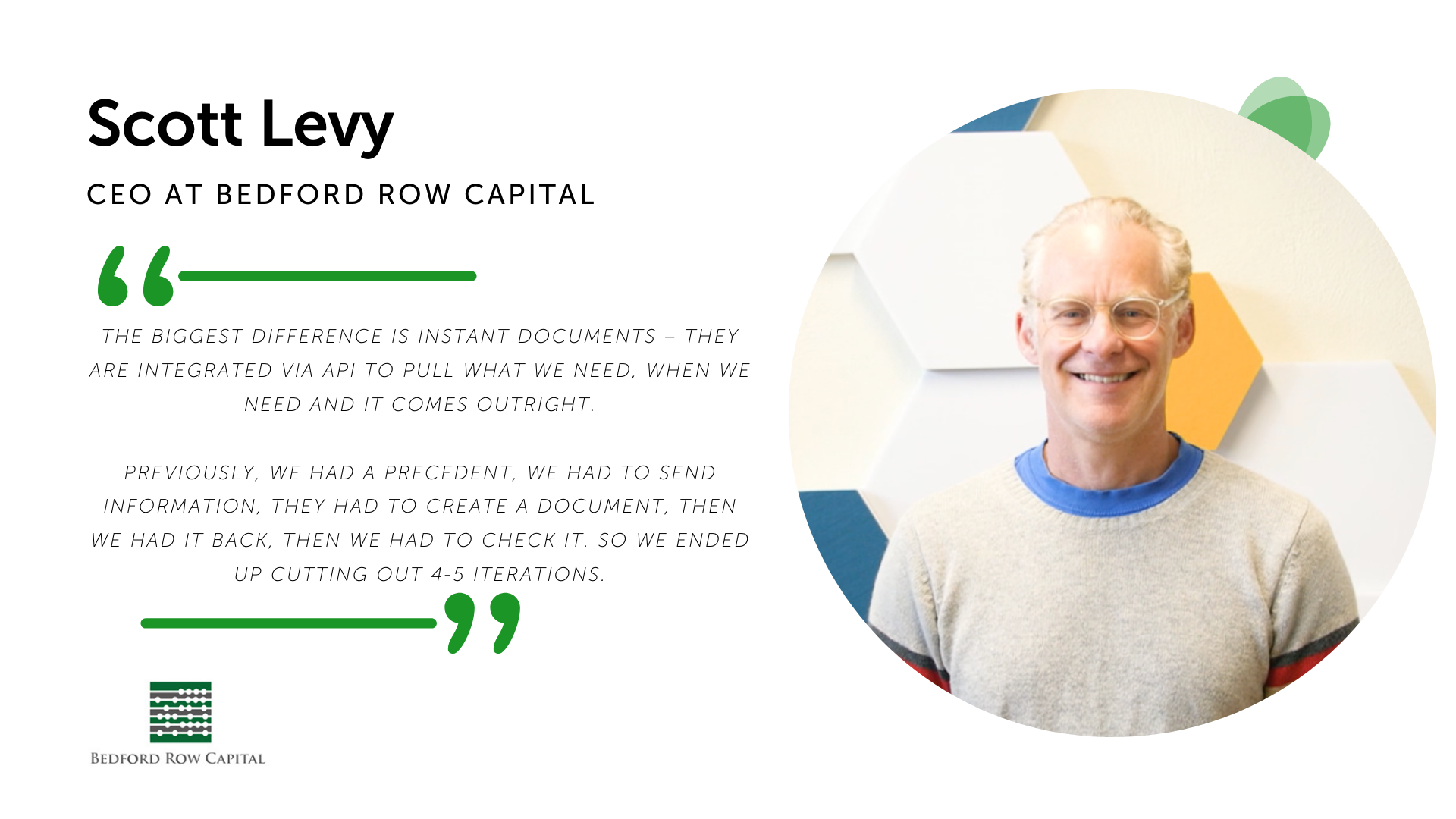 What are Contract Lifecycle Management Software Options?
Depending on your needs you might consider optimising either all your current business and legal process or starting with the most urgent ones. Choosing contract lifecycle management software depends directly on your needs and resources.
Many business and legal teams get stuck once the question of choosing a legal tech provider comes up: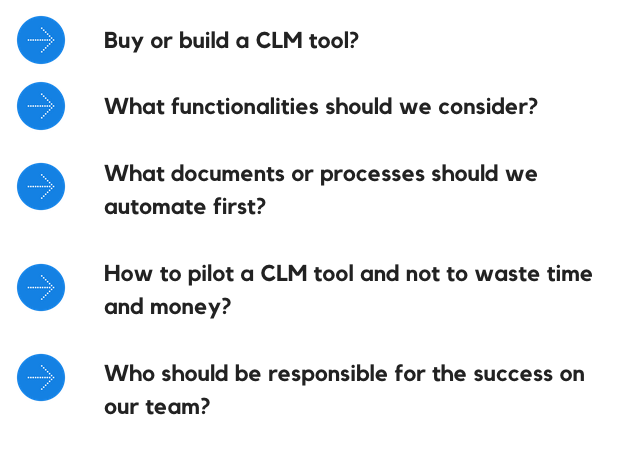 Learn more about contract lifecycle management software options and whether you should buy or build your own system. Some contract lifecycle management solutions are strong in drafting standard agreements, others are suitable for creating complex document packages. Ones are good for internal collaboration and document storage and others – for external document sharing and external collaboration. Choosing your contract lifecycle management solution depends on:
The number of document workflow stages they cover

The

frictionless frictioness

of collaboration environment

The number of users you plan to assign to the platform

The possibility to execute a contractdocument by singing straight from the platform

The possibility of integrations with your CRM or task management tool

The friendliness of UX-design

The difficulty of the learning curve 

The flexibility of the legal tech vendor to adjust to your needs
Avokaado is a perfect solution for business that:
Operat

e in heavily regulated industries such as finance, procurement or health care where compliance of the legal documents is business- critical priority

Serve a high number of customers and use different agreements for each interaction and transaction

Process a high volume of documents internally with the stauff and externally with clients
Avokaado contract lifecycle management is made in a way to support each business with its smart document creation, flexible workflow automation and dynamic document management system. 
Depending on your company's needs and focus you can build various workflows in Avokaado for:
Standardising procedures and automating

document generation

Enabling

self-help tools

and guides for customers for regular and low-risk work that doesn't necessarily require legal department involvement

Creating

a shared environment

for collaborative drafting, negotiating, approving and online document signing
Providing a tailored experience to your online customers with automated contracts embedded in your platform that remove friction from the purchasing process.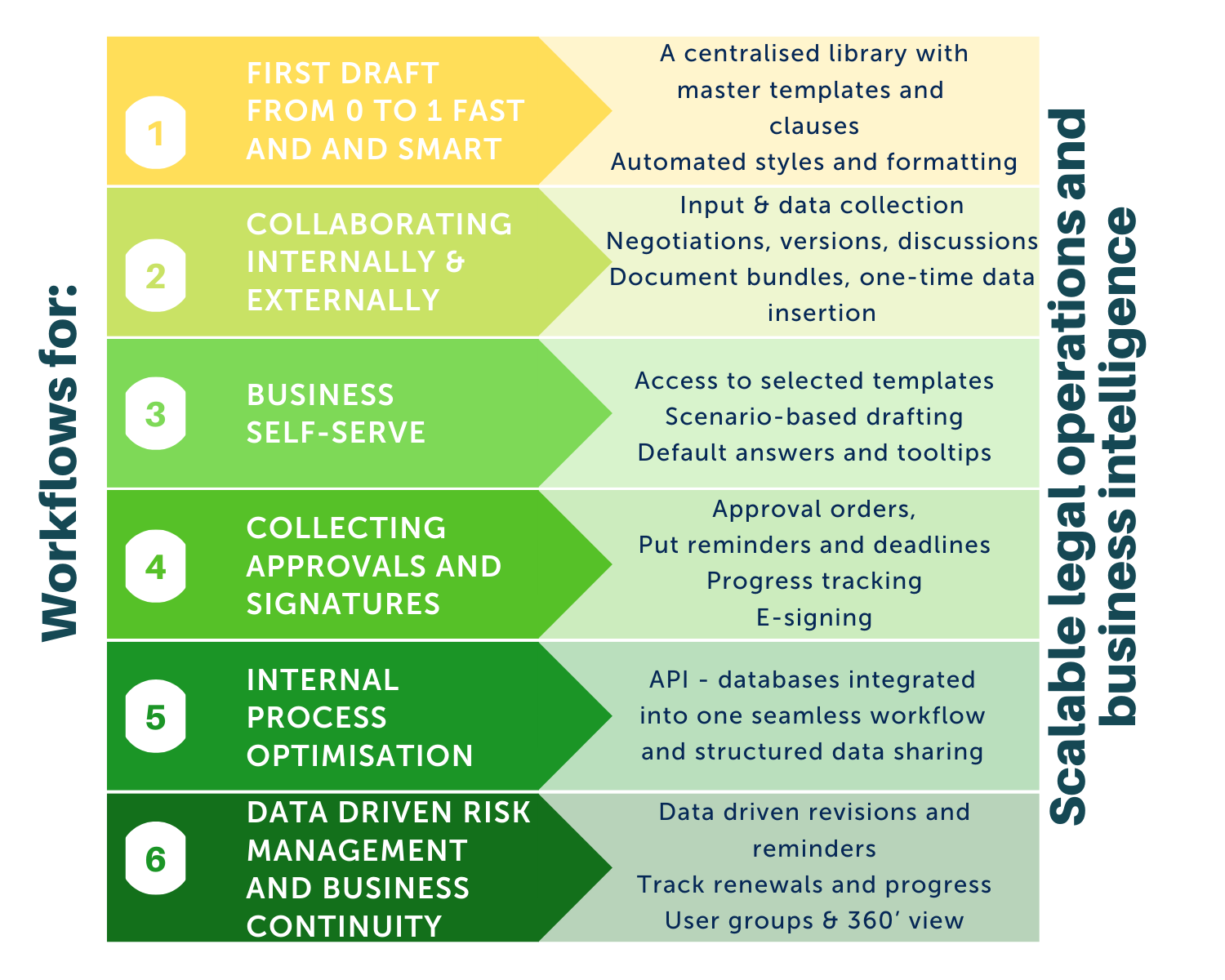 The Bottom Line
Businesses' operations have always been run on contracts. Contract lifecycle management that includes document creation, document workflow and document management directly affects businesses' performance and revenue. That's why having an efficient contract lifecycle management is the key to businesses' efficiency and growth.
End-to-end contract lifecycle management software solutions give you control over the entire contracting process from document creation to execution of a contract:
Maintaining a Centralised Document Database

Standardising the Document Creation Process

Document Delegation and Co-Drafting

Automating Document Workflow

Online Document Signing

Contract Management and Overview

Integrating contracts with existing databases
Using a digital contract lifecycle management tool any business can easily build the bridge between their business units, customers, external contractors and the legal team. This bridge between business and legal operations helps to:
Reduce risks and ensure compliance of each legal document 

Decrease contract time cycle and speed up deals closure

Save costs by automating manual work
With a digital contract lifecycle management solution in place, your company can get the most value out of your contracts during each phase of the process and enable business operations to run fast, smooth and riskless.